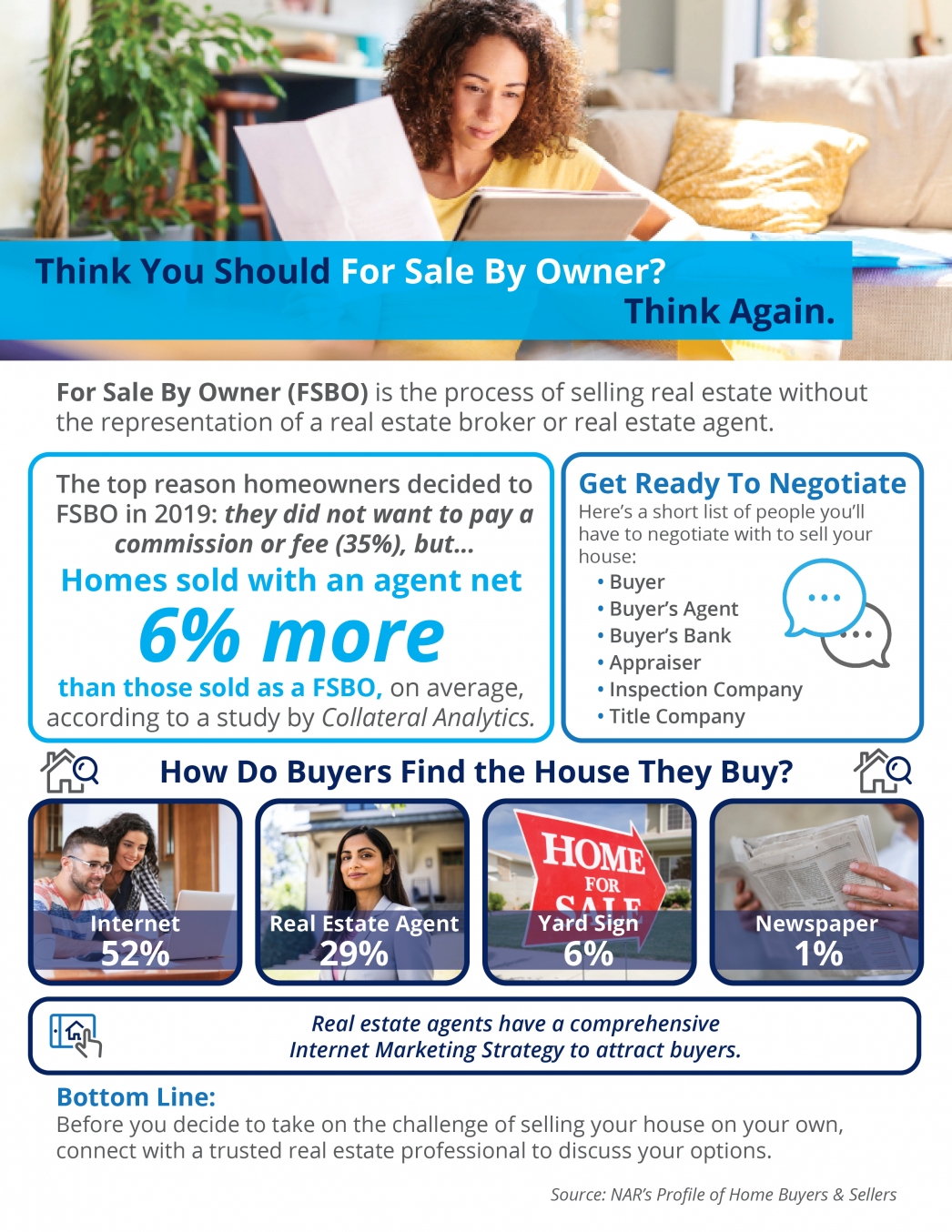 Some Highlights 
For Sale By Owner (FSBO) is the process of selling real estate without the representation of a real estate broker or real estate agent.
According to the National Association of Realtors' Profile of Home Buyers & Sellers, 35% of homeowners who decided to FSBO last year did so to avoid paying a commission or fee. But, homes sold with an agent net 6% more than those sold as a FSBO according to Collateral Analytics.
Before you decide to take on the challenge of selling your house on your own, let's connect to discuss your options.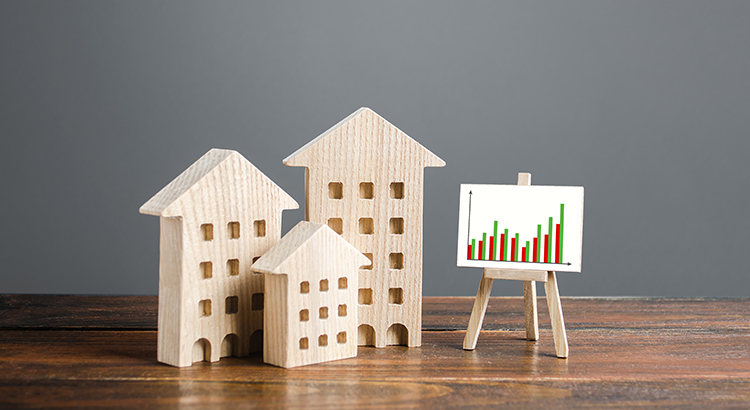 The housing market has started off much stronger this year than it did last year. Lower mortgage interest rates have been a driving factor in that change. The average 30-year rate in 2019, according to Freddie Mac, was 3.94%. Today that rate is closer to 3.5%.
The Census Bureau also just reported the highest homeownership rate since 2014 for people under 35. This is evidence that owning their own home is becoming more important to Millennials as they reach the age where marriage and children are part of their lives.
According to the latest Realtors Confidence Index Survey from the National Association of Realtors (NAR), buyer demand across the country is strong. That's not the case, however, with seller demand, which remains weak throughout most of the nation. Here's a breakdown by state: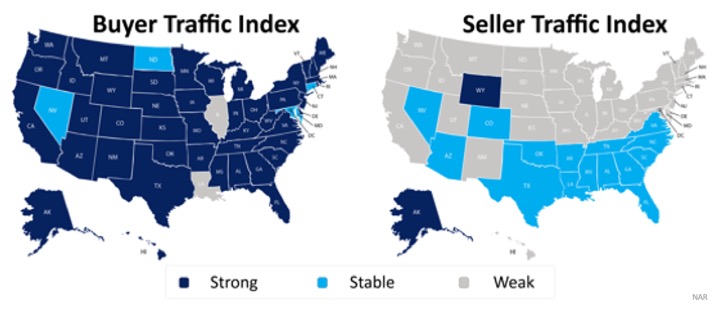 Demand for housing is high, but supply is extremely low. NAR also just reported that the actual number of homes currently for sale stands at 1.42 million, which is one of the lowest totals in almost three decades. Additionally, the ratio of homes for sale to the number purchased currently stands at 3.1 months of inventory. In a normal market, that number would be nearly double that at 6.0 months of inventory.
What does this mean for buyers and sellers?
Buyers need to remain patient in the search process. At the same time, buyers must be ready to act immediately once they find the right home.
Sellers may not want to wait until spring to put their houses on the market. With demand so high and supply so low, now is the perfect time to sell your house for the greatest dollar value and the least hassle.
Bottom Line
The real estate market is entering the year like a lion. There's no indication it will lose that roar, assuming inventory continues to come to market.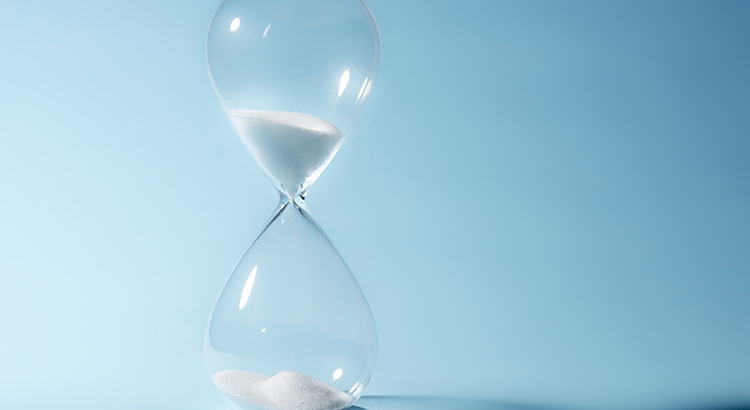 Tom Petty famously penned the words, "the waiting is the hardest part" in his early 80's hit song The Waiting, and his thought process can surprisingly also be applied to individuals considering selling their homes today. Traditional thinking would suggest it may be best to wait until the spring to sell when there is a flood of buyers in the market, but right now may in fact be an even better time to list your home.
We can see the overall economy is good: wages are rising, there are near record-low unemployment rates, and mortgage interest rates are still very low too. Over the past 10+ years the housing market has stabilized, so what (if anything) is the biggest challenge in the housing market today?
The answer is simple: it's inventory.
According to the Existing Home Sales Report by the National Association of Realtors,
"Total housing inventory at the end of September sat at 1.83 million, approximately equal to the amount of existing-homes available for sale in August, but a 2.7% decrease from 1.88 million one year ago. Unsold inventory is at a 4.1-month supply at the current sales pace, up from 4.0 months in August and down from the 4.4-month figure recorded in September 2018."
What does this mean?
While homes are coming to the market, they aren't coming fast enough! Right now, across the country there is less than 6 months of overall inventory of homes for sale, putting us in a seller's market. The challenge is that there are not enough homes for sale to increase the supply needed for the number of people who want to buy, especially in the starter and middle-level markets.
To be in a balanced market (meaning we have enough inventory for the number of buyers in the market), we need to have 6 months of inventory available. Today we are nowhere near that number, and as a matter of fact, the last time we reached that height was August 2012 (as shown in the graph below):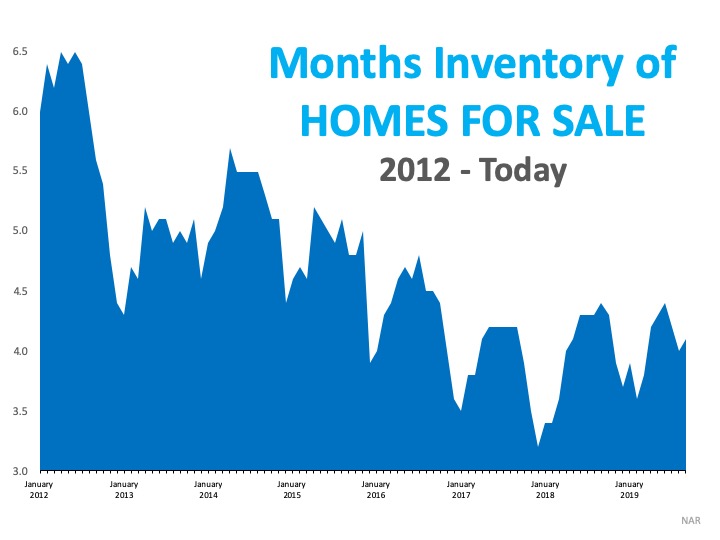 When we look at the inventory challenge today, we can see that now is a great time to sell your house. Truthfully, waiting may end up being the hardest part in the long run. This landscape is a great place for sellers who own homes in the starter and middle-level markets to take the opportunity to sell in a sellers' market, before inventory catches up with demand. Serious buyers are actively in the market and ready to make a move at this time of year. When inventory is limited at the lower end, like it is today, selling before more homes are listed could mean a significant seller's advantage to those who are ready to move up. The upper level of the market has much more inventory available to move into, so it's a win across the board.
Bottom  Line
If you're considering selling your home, don't wait – now is the time to make your move! Take advantage of the high housing demand and the low inventory of homes for sale at the lower end of the market and use your purchasing power while mortgage rates are low to go after the move-up home of your dreams. Let's get together to decide if now is the right time for you.